A few weeks ago I went to June's Deli located in the newly refurbed Gibbard Block. I peeked inside the shop next door and new I wanted to go there too. Since deciding I wanted to go, I have heard nothing but positive reviews with everyone saying "go try Fox Burger".
Okay.
I went and it was delicious.
Something was wrong with me though, I couldn't take a photo that wasn't blurry… Perhaps it was because everything smelled so good it triggered my hunger glands. I focused mostly on eating and less about photos. In the end, that was a smart decision.
The hubs and I went on a Saturday night and I had been following Fox Burger on Instagram and knew about the reservation app. So …I made reservations for 5:00 p.m. That was smart because everyone who came in had to wait unless they had reservations.
We arrived with 5 minutes to spare and parked across the street. There is free evening and weekend parking for Fox Burger and June's Deli in the lot across the street. Alternatively, there is residential parking. We crossed the street and saw someone punching in a code for the Airbnb upstairs. I think that is a smart idea.
When we walked in, we were greeted right away and show to our spot.  Specials were explained and we were given the menus.
Obviously, I had a mimosa, not just for breakfast anymore!
See? Blurry… Sorry about that, but in my defence, it was delicious and I couldn't wait.
The hubs ordered Lunar Phase on tap. The beer choices were local craft. I love that.
Our server arrived and I asked if I should have garlic fries or the disco fries. She said Always have disco fries. This is what I know to be true: Every time someone gives a special name to fries, eat those instead of plain. Animal fries at In and Out is where I first learned this rule. Disco fries confirmed it. Chicken gravy (weird choice but DELICIOUS) cheese and garlic fries. Fancy poutine but SO GOOD!
We both had disco fries and I chose Mushroom Swiss and hubs had Bacon Pepper Smash. Our server explained the smash burger, 5 ounces of beef but smashed on the griddle to maximize the caramelization… OMG… yep it worked in making it the best burger.
This is what it actually looks like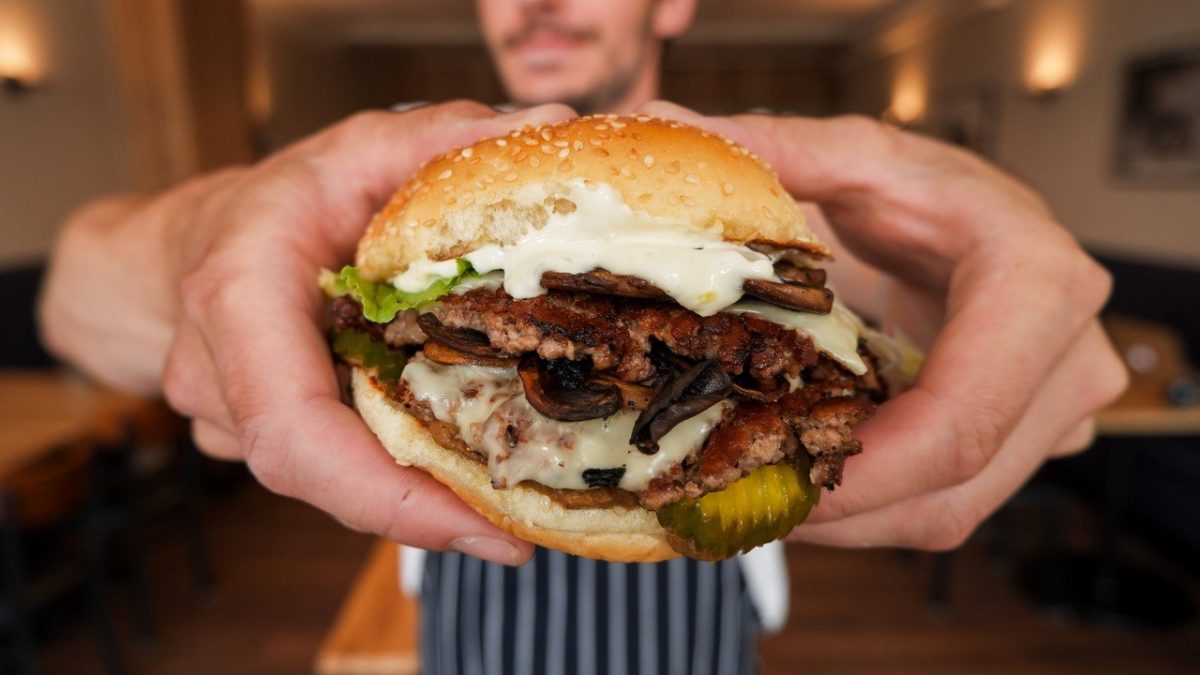 Photo by @exploreEdmonton
I inhaled it clearly because I couldn't wait to put the camera down. SO BLURRY – what was wrong with me? Right…I was salivating.
After dinner, we shared an apple hand pie with cinnamon ice cream and salted caramel. Warm and light and fab.
I will be back. The problem is Edmonton has all these amazing eateries. I want to get to all of them. It may take me a lifetime. But – I intend on eating everything on the menu so I need to go back a few more times before I branch out to other restaurants. oh…and they serve BRUNCH! I am going on March 11, I can't wait.
Get out and explore people!